ALL RIGHT, HERE WE GO. Second last empties post of 2012!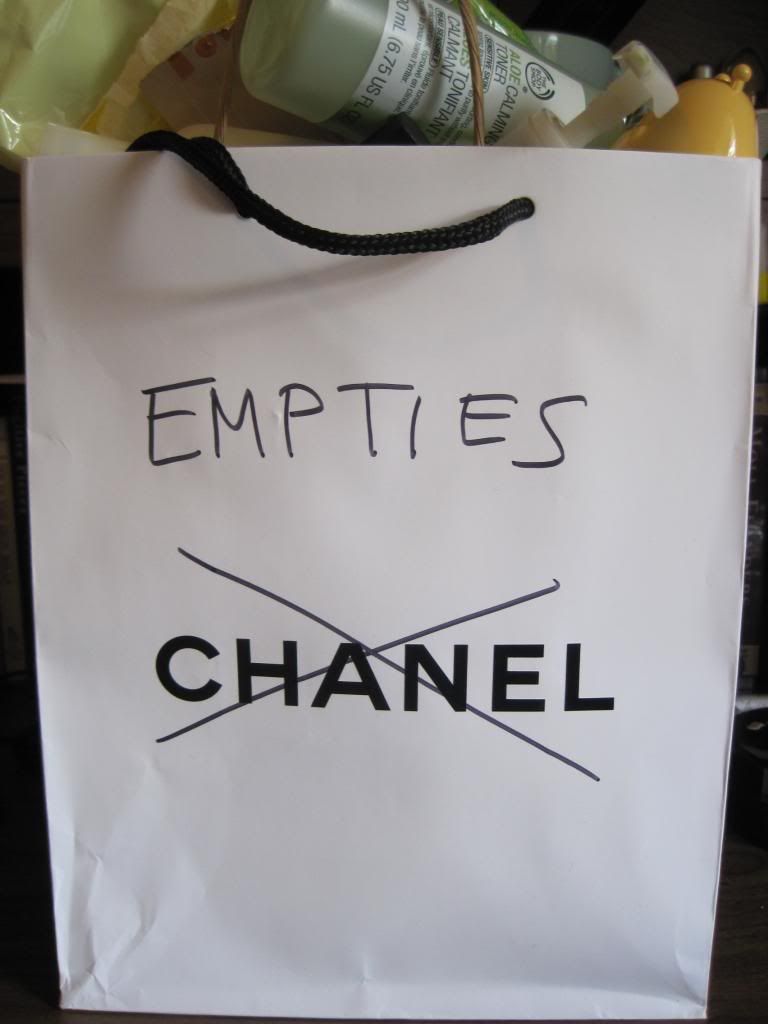 Just wondering: has anyone reading this ever finished a Chanel anything before?
Bath & Body Works French Baguette 3-Wick Candles
x 2 (reviewed
here
) - Will I ever shut up about these candles? No. Go get some! Because they're so soothing and easy on the nose, it's very possible to burn through two giant jars within 2.5 weeks. This is why I bought four more immediately.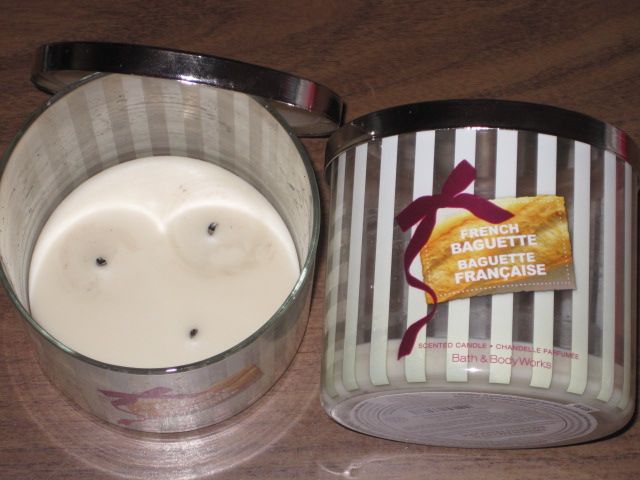 St. Ives Mineral Clay Firming Masque
- I've tried clay masks both high and low, and I don't think any of them has ever done anything for my skin. Mud masks are always recommended for oily skin, and while it always feels nice right after rinsing off, there are no long-term effects. I honestly think the nice feeling is the result of double cleanse at the sink (triple cleanse if your normal routine is to double cleanse - le sigh).
Garnier Fructis Anti-Dandruff Clean & Fresh 2-in-1
- Bought five for $0.99 each and have no complaints. Out of the cheap drugstore shampoos, I like Fructis in general, mostly because they go on sale often for $2.99. Their regular shampoos dry out my scalp like crazy during cold season though, and the anti-dandruff stuff are a little kinder. I'm testing out some PR samples right now and will report back on those later.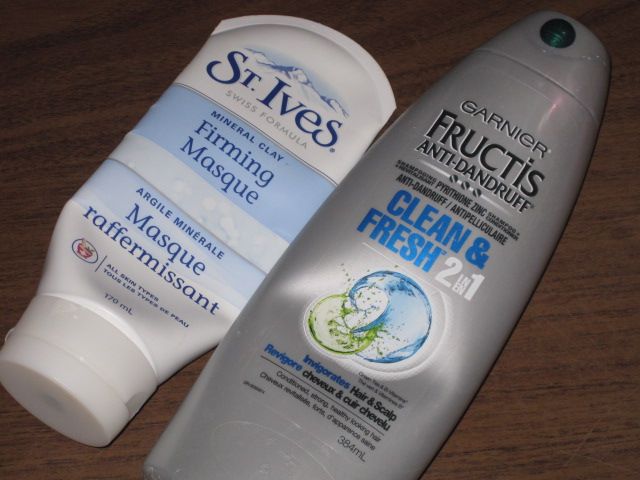 Sephora Collection Coconut Cream Body Butter
(discontinued) - I had this one for
a LONG time
. I had bought this at the same time along with another body butter and regretted it after, but a strange thing happened. I grew to love it more and more as time went by. The scent was sickly sweet and not my usual sort of thing at all, but I got really attached to it and you can see how I scraped the jar clean. Sephora recently re-released new body products and I might have to try one of the body butters eventually.
Hourglass Veil Mineral Primer
-
YOU KNOW
- holy grail primer. Will repurchase when I finish the Becca Resurfacing Primer.
Boscia Peppermint Blotting Linens
- I make an annual trip to Sephora as soon as the newly designed Boscia Peppermint blotting sheets are released and stock up when they're half price. This year I somehow forgot and now they are freaking sold out. Yes, I can buy it online, but no, I'm not going to spend $75 to get free delivery. I also refuse to pay $12 for blotting sheets. My face looks like
this
right now.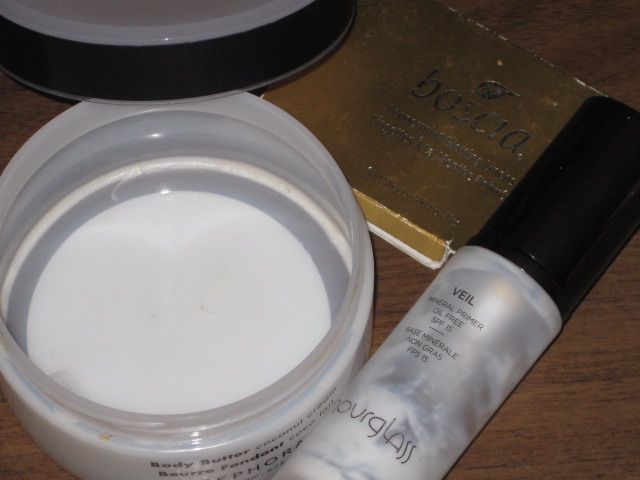 LUSH Golden Wonder
(reviewed
here
) - My favourite holiday bath bomb! I wanted to buy 10 but resisted. $7 is a lot for one bath and you can only stay in the water, say, an hour max. Considering that I could pay $10 to go to a spa and use their piping hot water for hours at a time, I've decided to reduce the number of bath bombs I purchase in the coming year. More spa relaxing times, less time spent scrubbing the tub! Tip for those using Golden Wonders though: throw it into the bath at the last minute. The bubbles disappear pretty quickly if the bomb dissolves too early.
LUSH Bubbleroons
x 2 - I threw both of them into the same bath as the Golden Wonder because I didn't get enough foam in the end. The bubbleroons are from almost a year ago when
Ashley
sent them to me. LUSH products should be used as soon as possible, however. The bubbleroons had hardened and were less foamy than the last time I used them, back in August. It's hard to let go of these hoarding habits but lesson learned.
Shiseido Facial Cotton
- Who knew one day we'd have holy grail cottons? But they're worth it. I'm using a cheaper package now as I like to rotate between the splurge and the cheap. And yes, Larie, I will investigate the Costco cotton packs eventually!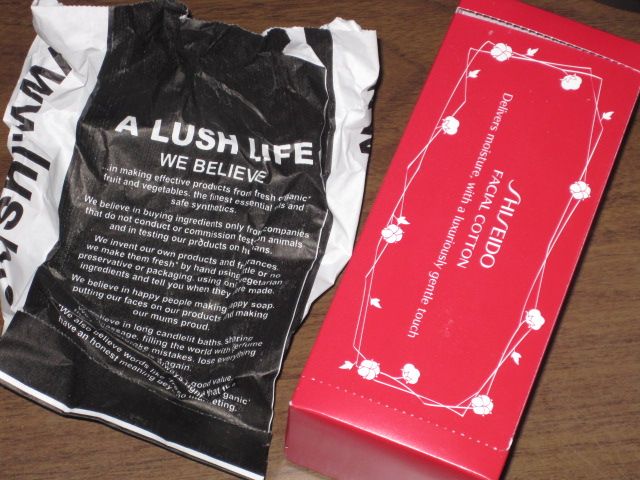 Boring stuff.
Baby wipes, Balea wipes, Rexall cotton rounds
. All previously featured, all regular purchases.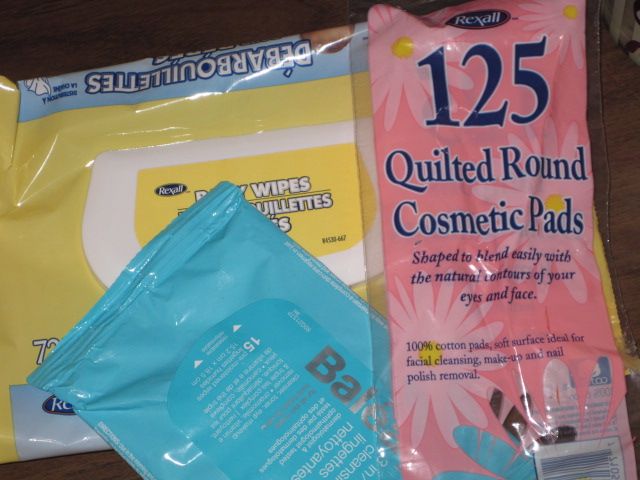 Samples! Links will take you to the reviews.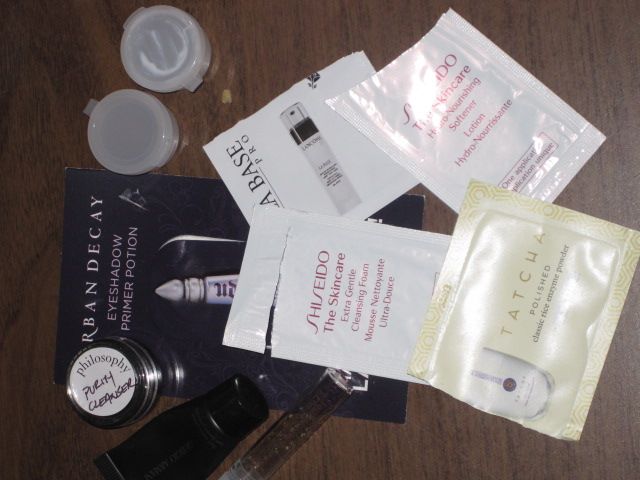 TOSSES
Revlon Colorburst Lip Gloss in Sienna Sparkles (Expired) - Swatched here. I used it only 10 times or so, but one day it smelled funky. Gross.

Boscia Oil-Free Daily Hydration (Expired)
Boscia Enlivening Amino-AG Eye Treatment (Expired)
Revlon Lip Butter in Candy Apple - You heard the story. No more lip butters for me until Revlon fixes this problem.

Physicians Formula Multi-Colored Pressed Powder in Beige - Not exactly expired but too old for comfort. Also not a match to my paler winter complexion.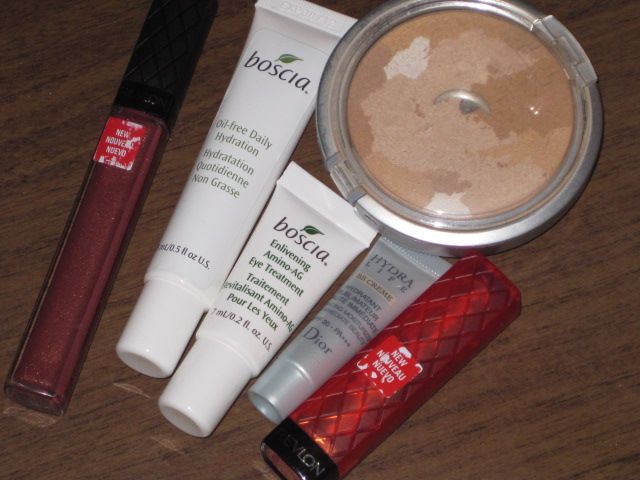 Todays Total:
J

umbo - 1

(Rexall Baby Wipes)
(

As usual, c

andles not counted.)
By my old rule (1 jumbo = 2 regular; 5 travel/sample = 1 regular), I have used up 99.6 products in 2012. I have a few more old bottles and samples headed to the empties bag before the year ends, but it seems that my rough estimate of
100 products per year
still stands. It is seriously insane how much stuff we plow through. Although there are many days when I want to throw aside this reductionista business and call it quits, seeing the end of a project journey has me inspired and pumped for more projects in the future. Perhaps I can work on reducing the amount of waste produced in 2014, since 2013 will be spent finishing up what I purchased in 2012 and 2011 (groan). For some reason I managed to accrue soap bars rather than shower gels this year, and already that is much less wasteful in terms of non-recyclable packaging and whatnot. We shall see.