I admit it: I went
insane
this month with all the sales and deals. I might have gone insane on my own without any help, but the sales were awfully enticing, and I was in need of an awful lot of comforting. The self-pity party is expected to last all throughout winter and deeply into the spring/summer seasons as well. I can't talk about half of my troubles here but would really like to because I need an outlet of some kind. One night it may all come pouring out, I don't know. But just know that I don't say these things lightly, and I am really thankful for this blog that provides not only a distraction but sometimes just pure relief to be able to converse with like-minded people who happen to be extremely clever, funny and wonderful in their unique ways.
Enough mushy stuff. MOVING ON TO THE HAAAAAAULLLLLLLLL!
(I make an exception for allowance of this

twisted

word when I go overboard like this.)
CANDLES
I count November and March as winter months because they are bitterly cold, which means we endure six months of winter here in Canadia. Candles light the way to relaxation and comfort. I stocked up early.
Bath & Body Works French Baguette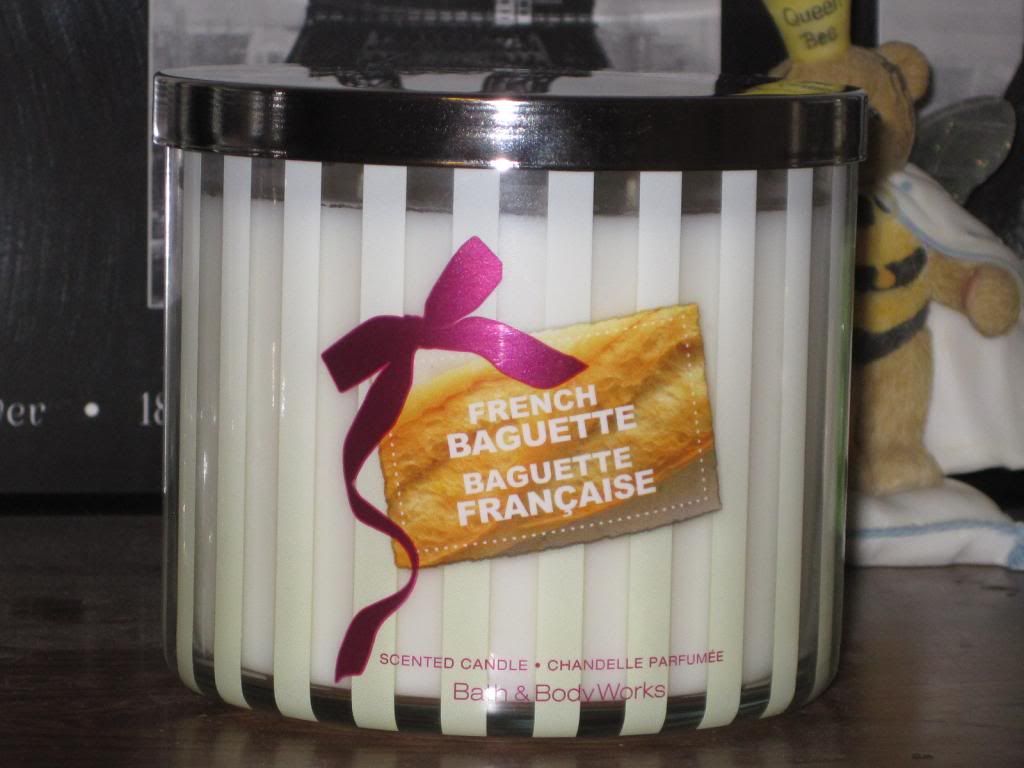 I burned up two 3-wicks already; repurchased FOUR more. I KNOW.
Voluspa Chestnut & Vetiver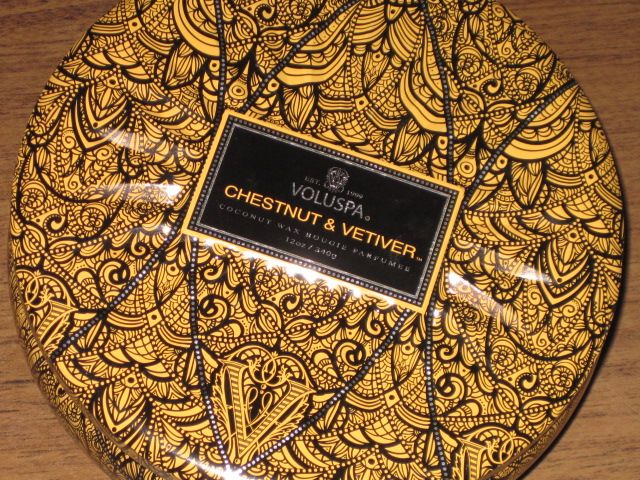 Purchased ONE on employee discount. It's heavenly, y'all.
Paddywax Tea Leaves and Bergamot + Pine Needle and Mandarin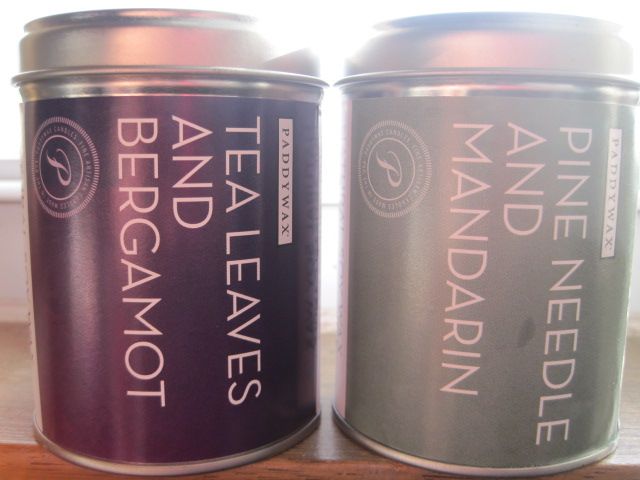 Again one each on employee discount...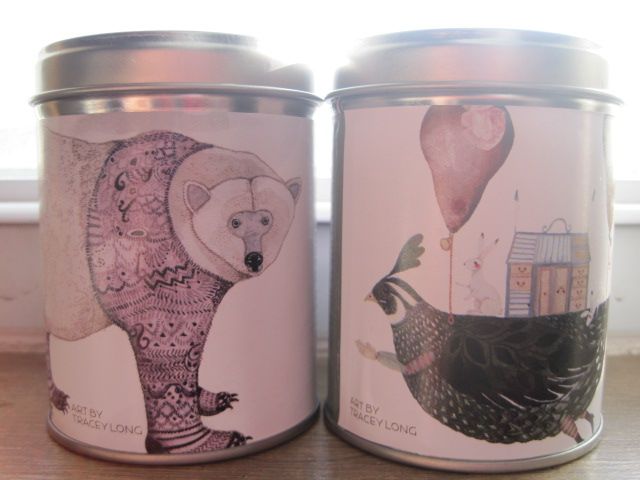 The other side of the candle tins featuring the pics from the artist series. So cute!
I've become somewhat of a candle whisperer on Twitter. Don't know how that happened but I think it's due to the fact that I favour toasty, warm, comforting or light and fresh candles that aren't too overwhelming and generally appealing to a lot of people. The French Baguette is reviewed
here
. I'll get around to the others eventually... maybe. But they're all fantastic and I have to bite my hands to keep from buying backups of all of them before my gig at the second job is over. Because it makes no sense to stand all day and blow it all on candles. (
Or does it??
)
SEPHORA VIB SALE (20% DISCOUNT)
My lovely and wonderful Twitter/blogging wife Becca posted a roundup of her VIB purchases
here
, which I thought was a lot of fun. I'm so embarrassed about going off the deep end this month, but in the interest of full disclosure, here we go... *winces*
Caudalie Divine Oil
Reviewed
here
. Loving it!
Tarte Fantastic Foursome
The shades are
Angelic
(shimmering champagne),
Fantastic
(soft fuchsia),
Magic
(pink coral) and
Stellar
(shimmering nude). They're slightly smaller than the regular sizes but not as small as the travel sizes included in the larger Tarte kits or the mini bronzer/blush duo. As previously stated, Tarte is way overpriced in Canada but 20% off a value set makes it quite worthwhile if you're a shameless blush whore like I am.
Josie Maran Bohemian Waves Argan Hair Mist
(Cheaper and larger than my holy grail Bumble & Bumble Surf Spray - let's hope it's worth the switch.)
Becca Beach Tint Duo
(Traded away Fig which was too neutral if that's possible... outcome to be revealed later. Watermelon is interesting...)
Clarisonic Normal Skin Brush Head Twin-Pack
(Makes sense to get it now and I do need to replace the brush head again.)
Guerlain Aqua Allegoria Mandarine Basilic
(Emptied my first full perfume bottle ever! It's my summer holy grail so a repurchase was in order.)
Caudalie The des Vignes
(1/3 remaining in the old bottle. Extremely affordable and just an awesome year-round scent that melds perfectly with my body chemistry.)
SPLURGES
Sephora Online was offering a pretty good sample package with a minimum purchase of CAD$50. It's one of the few times I made a purchase because of the extras that were offered.
LORAC PRO Palette
(Mini eye primer reviewed
here
. So far I'm loving the palette and the palette craving is on the wane.)
Becca Resurfacing Primer
(Cheaper than my holy grail Hourglass Veil Mineral and *almost* as good. Reviewed
here
.)
Deborah Lippmann Cleopatra In New York
(Received 15% of purchase back in Holts giftcard. Thought it was a must-have but it's not in my opinion. Reviewed
here
. I gave it to
Denise
who said she
needed
it. ;-))
Chanel Ombre Contraste Notorious
(I blame mostly
Xiao
for this but also
Mimi
,
Sabrina
,
Jessica
,
Arianne
and everybody else who contributed to this out-of-left-field fixation.
Eugenia
got in on it as well! Received 15% of purchase back in Holts giftcard. It was very tricky at first but I've become better at contouring the cheeks with it. Loving it as eye shadow as well!)
LUSH Jumping Juniper Shampoo Bar
(Totally Dovey's fault. See her review
here
. I've used it only once so far and the lavender scent isn't as prominent as I'd like it to be, but I may be hooked to shampoo bars now. This is supposed to last 60 shampoos.)
LUSH Golden Wonder Bath Bomb
(Honestly, I wanted to carry a cartload of it out of the store. I resisted and got just ONE.)
Dr. Bronner's Magic Soaps
(30% off at American Apparel. Reviewed
here
.)
DRUGSTORE DEALS
With my new found red lipstick obsession, I realized I needed some red lip liners.
Annabelle
was having a 2 for $5 deal and so obviously that couldn't be passed up. As I conquered my fear of red lips, I decided to conquer my fear of blue shadows as well. After dabbling around for a while, I settled on
MUFE Aqua Shadow in 6E Matte Navy Blue
. Unfortunately, it went back to the store as it wasn't the kind of blue I was looking for.
Alpen Lavender Goat Milk Soap and Lavender Goat Milk Foaming Milk Bath
(Lavender isn't my favourite scent but lately it is very soothing. You can check out the foam action of the Foaming Milk Bath on my Instagram
here
. I figured it was better to spend $5 on a foam bath that can be used multiple times than a LUSH Bath Bomb that costs $6-7 per bomb.)
Essence I <3 Stage Eyeshadow Base
(For $3, I couldn't lose even if it sucks. And it's kind of okay so far.)
Maybelline Color Tattoo in Rich Mahogany
(Lovely colour. Creases badly on its own, works well over a primer.)
Maybelline Color Show Nail Lacquer in Twilight Rays
(Review coming up - I prefer this to the Deborah Lippmann Cleopatra believe it or not.)
And finally...
J.R. Watkins Lavender Hand & Cuticle Salve
(To complete my lavender obsession.)
Essence Renesmee Red Blush
(Okay, I'm blushing because I bought a Twilight-themed item. But it's a pretty colour and was only $2.99 so shut up.)
In case you were wondering why this post is called "November Pickups" rather than "November Pickups and Deliveries", it's because the post is so long that I had to break the two components apart into separate posts. Next post will be the deliveries portion. After that we'll have one or two empties posts. Then some reviews and some rambles and thoughts and some colour themes and inspirations and then 2012 will be over.