I post this in case I don't get around to a new post until Saturday. Job #1 remains mind-numbingly boring where I spend most of my day watching the clock, but Job #2 is keeping me literally on my toes and on my feet all night. Therefore, my lunch hour visits to Sephora have become ever more precious.
I haven't had time to cut my nails much less polish them, so I took advantage of the giant new nail bar to explore some new shades. As usual, I was drawn to blues.
Illamasqua "Cameo" (CAD$18)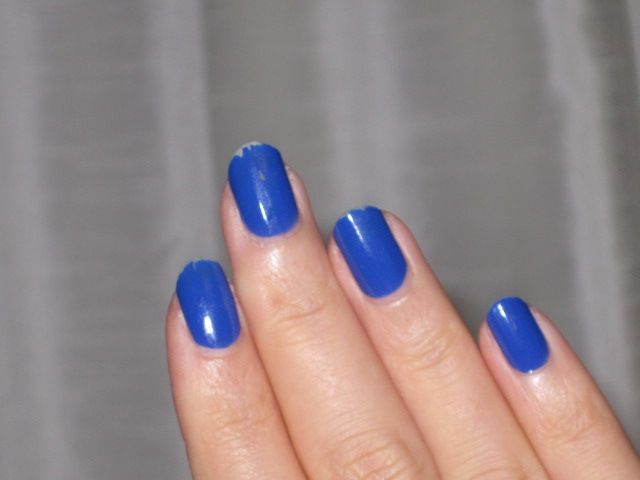 YSL "Bleu Majorelle" (CAD$31)
Both were applied without base coats or top coats, and frankly, I amazed even myself. I applied these suckers in five minutes flats, two coats each, and topped it with some Sephora/OPI drying drops. I received a compliment on them right away (yes, each hand different colour) and most people preferred Cameo over Bleu Majorelle, which I agree with. Cameo is a more unique periwinkle while Bleu Majorelle, stunning in its own right, is still a blue that looks a lot more dupable and familiar. Also: look at the chips on Bleu Majorelle. That happened on Day 1 and got worse by Day 3. Cameo by contrast is still in perfect shape without any tip wear. $18 polish vs. $31 is no contest in this case. Suck it, YSL.
(I didn't buy either of them as I seem to be going through a disturbing nail polish withdrawal phase. We shall monitor this new development in the coming weeks/months.)