Despite my attempts to avoid pink makeup, I ended up with a rather nicely balanced stash of pink blushers.
Pictured below are
Tarina Tarantino Carved Rose
(top left),
Tarina Tarantino Candy Cameo
(top right),
Physicians Formula Happy Booster Glow
& Mood Boosting Blush
in
Rose
(bottom left),
MAKE UP FOR EVER Blush
in
#75
(bottom middle) and
Tarte Amazonian Clay 12-Hour Blush
in
Fantastic
(bottom right).
Why have I avoided pink? Well, don't hate me but I'm nearly 35 years old and still get mistaken for a 22 year-old.
Don't say I'm lucky
. I find it really insulting when people at the office assume that I'm inexperienced and treat me based on appearance rather than knowledge. Pink is not only associated with youth but actually adds a youthful glow to one's look. As a result, I don't wear it much. But how can a makeup collection be complete without some pink?
I suppose this isn't really a review of the products so much as a documentation of my attempts to weed out dupes. Due to the various shades of tones and shimmers within the single PF hearts blush, I took it out of the equation to simplify matters. We're now left with four.
And obviously, MUFE #75 is way too bright and POW! Out it goes. We now have three.
It's basically a battle between TT Carved Rose and Tarte Fantastic. Both are soft pale pinks, and I only ended up with them because they came in a palette and a set. I've never purchased a makeup colour like this on its own intentionally.
They seem almost identical in the pan, but what do you know? Tarte Fantastic is a more pale Barbie pink while Carved Rose appears rather... rosy. I knew there was a reason I like Carved Rose as much as I do.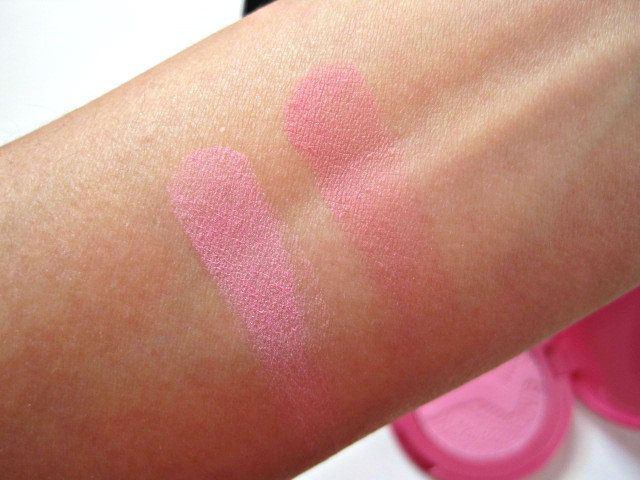 Left: Tarte Fantastic / Right: TT Carved Rose
And here we find my heart tormented in conflict again. While I don't really like Tarte Fantastic, it serves as a nice reference point for other pinks. And maybe there will come a time when I'll embrace pinks with a passion. Hang on to it in case I enjoy it in my 50s? What say you?