After a lifetime of staying true to neutrals and "barely there" shades, I've fallen head over heels for bold colours. Most are vibrant, juicy, primary shades like red and blue. I know not from whence this sudden longing sprang, but it most definitely started with a desire for the truest reddest blush in the planet. As you can see, I've been on the hunt.
It's a longing that has been simmering for a while. I believe that the pick-up of
Essence Renesmee Red Blush
was a tiny step toward it. After resisting the siren call of NARS Exhibit A for months, I decided to resort to a possible dupe:
MAKE UP FOR EVER #99
(left). And as stated in my post from the summer
here
, I followed through with the intent of securing
#75
as well (right).
After conquering my
fear of red lips
and embracing my love of red cheeks, the next hurdle was my terror of blue eye shadows. Blue is a colour I adore, as you might guess from the number of blue nail polish posts showcased in the past, but the thought of wearing it on my tiny, mismatched East Asian eyes with yellowish skin tone was a challenge I could not fathom until now. Often, I admired looks such as these and did wish I was more brave and adventurous.
Okay, that's almost grey, I know...
But this is blue.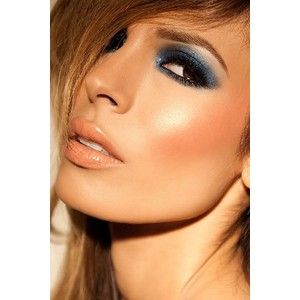 And this is BLUE.
I'm in the middle of swatching all of my blue eye shadows (there aren't many) and wanted a matte navy blue to keep things real. Because I'm still not willing to do something like
this
, YET.
But then, the upcoming
NARS Spring 2013
collection contains a vibrant blue/green shadow duo that has me really looking forward seeing it in person, so who knows what the next few months will bring? The last few months added
this
...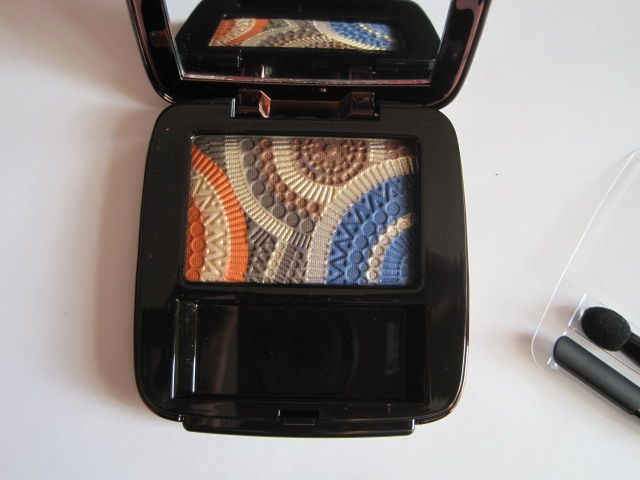 Guerlain Terre Indigo
and
this
...
NARS Mandchourie
...to my growing stash of blues.
And to my horror, the desire to accrue more blues hasn't stopped. Recently, MM of
Makeup Morsels
put Guerlain Place Vendome on my radar. See her post
here
and admire the stunning blue shade in the middle of the palette. Isn't it gorgeous?
As I reflect on this perpetual wavering back and forth between attempting to reduce the number of makeup in my possession while accumulating simultaneously, I came to the realization that makeup-wise, I'm quite the late bloomer. It wasn't until my mid to late 20s that I started to take makeup seriously, and most of the time spent since was focused on looking natural, polished and professional. When I'm in experimentation mode, all bets tend to be off. I will spend all possible waking moments devoted to the preoccupation at hand until I am stopped by the lack of time/money/space or gradual tapering off of interest. It's not that I want to own every blue shadow in the world, but there is a very strong desire to close all the gaps between the shades of blue I own. However, I'm very specific about what I want. For now, that's all I have to stop myself from becoming a crazy blue shadow hoarder.
Anyway, it's my intention to start wearing the blue shadows instead of just collecting them. I'm working on a blue shadow post to gather my thoughts on what's really needed and what's not. In the mean time, do enjoy this sneak peek at NARS Spring 2013.
It's the most exciting spring collection so far, since I actively dislike pastels and refuse to wear them. But based on this post, it could be that by next year at this time I'll have a post up called "Suddenly... PASTELS!!!"