Out of the multitude of things that are a part of our daily routine, I hate dealing with hair the most. I have long, frizzy, unruly, wavy hair. Normally, I'd rub some curl-enhancing product through the hair, air-dry it and call it a day, but in winter, I also suffer through the agony of dry scalp and hatred of wet hair. What's a lazy girl with too much hair to do?
Luckily, I was given the opportunity to test out a few brands of shampoos and conditioners that I had not tried before. The first is
CLEAR Scalp & Hair Therapy
.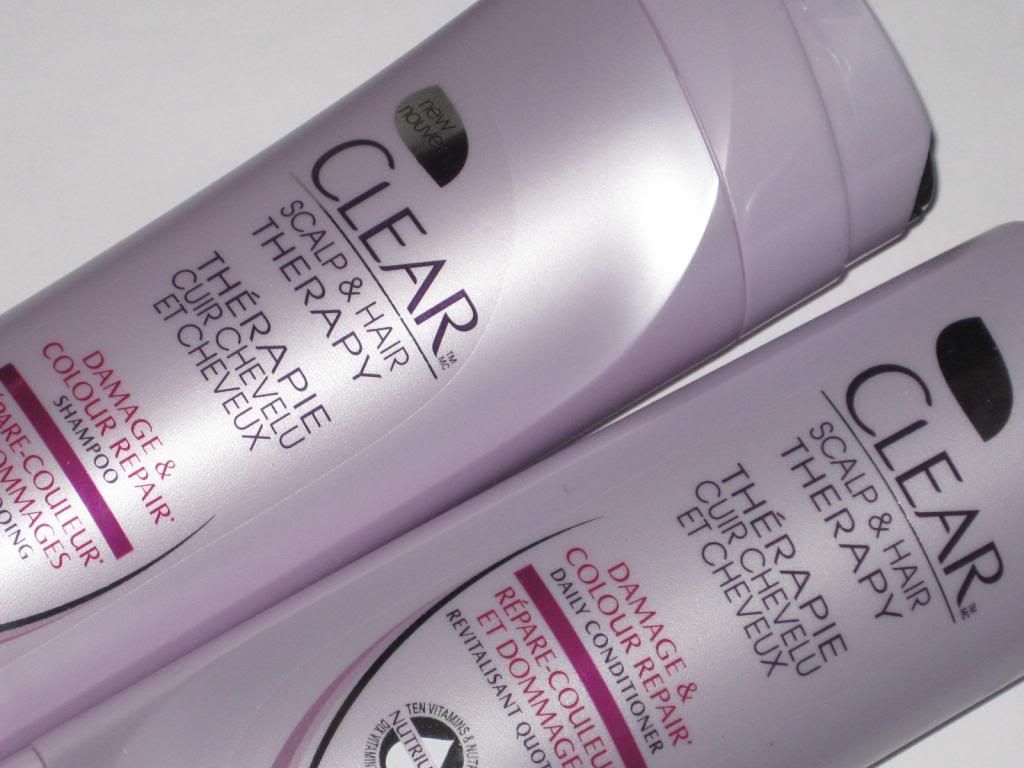 Some general info from their fact sheet:
New Clear™ Scalp & Hair Beauty Therapy beauty shampoos and conditioners not only give women stronger, more beautiful hair in seven days, but also feed the scalp with hydrating nourishment. They are clinically proven to help restore the scalp's natural moisture balance.

The line is infused with Nutrium 10™ technology, a rich blend of vitamins and nutrients that deeply nourish* the scalp. Nutrium 10™ is an advanced moisture complex of vitamins and nutrients including vitamins B5, C & E, sunflower, almond, soybean and coconut oils and aloe vera.

Clear™ Scalp & Hair Beauty Therapy arrives in Canada with a range of six shampoos and five conditioners to meet different scalp and hair needs.
As you can see, I was sent the Damage & Colour Repair set to test. I don't have damaged or coloured hair, but I always choose the most nurturing/hydrating option in shampoo series because my hair is textured and coarse and requires extra attention. Though these categories are set to guide us to better hair care, there's no need to rigidly follow the guide in every case. With this brand, I was more interested in the claim about scalp care more than hair, anyway.
My experience with CLEAR Scalp & Hair:
While I did not notice a change in the look or feel of my hair, there was definitely an improvement in the dry scalp situation. It was
visibly less scaly
, which I was really really happy about in mornings when I crawled reluctantly out of bed at last minute and tended to this hair business just as reluctantly. I had had to stop using the Fructis shampoo that I rely on in warmer seasons because it caused my scalp to flake, and those flakes show so prominently against my dark brown/black hair that it was starting to get a little embarrassing. Even after two uses of CLEAR, my scalp looked better and was less flaky. And at the friendly retail price range of CAD$5.68–$8.49 for 381 mL/375 mL bottles, I highly recommend that you give it a try if you also suffer from the dry scalp issue like I do. (I have to stress however that my scalp does not itch or feel tight or stressed in any way. For me, it's a pure vanity issue, because of the visibility of the dryness.) The hydration level of both the shampoo and conditioner felt average (I would not actually recommend this for very damaged hair) and the scent resembles a less intense version of Herbal Essences' fruity concoction, which I appreciate. The shampoo lathers well and rinses off clean, and the conditioner does not leave heavy residue behind.
Shampoo Ingredients
: Water (Aqua), Sodium Laureth Sulfate, Cocamidopropyl Betaine, Fragrance (Parfum), Dimethiconol, Sodium Chloride, Carbomer, Dimethicone, Sodium Lauroyl Isethionate, Zinc Pyrithione, Helianthus Annuus (Sunflower) Seed Oil, DMDM Hydantoin, Guar Hydroxypropyltrimonium Chloride, Stearic Acid, Citric Acid, Tallow Acid or Palmitic Acid, Zinc Sulfate, Glycerin, TEA-Dodecylbenzenesulfonate, Sodium Isethionate, Poloxamer 407, Laureth-23, Laureth-4, Tocopheryl Acetate, Prunus Amygdalus Dulcis (Sweet Almond) Oil, PPG-9, PEG-9M, Panthenol, Lysine HCl, Hydrogenated Coconut Oil, Glycine Soja (Soybean) Oil, Xanthan Gum, Methylisothiazolinone, Methylchloroisothiazolinone, Niacinamide, Aloe Barbadensis Leaf Extract, Ascorbic Acid, Mica (CI 77019), Bismuth Oxychloride (CI 77163), Titanium Dioxide (CI 77891), Red 33 (CI 17200)
Conditioner Ingredients
: Ingredients Water (Aqua), Cetearyl Alcohol, Cyclopentasiloxane, Stearamidopropyl Dimethylamine, Dimethiconol, Fragrance (Parfum), Behentrimonium Chloride, Dipropylene Glycol, Lactic Acid, Zinc Pyrithione, DMDM Hydantoin, Zinc Sulfate, Sodium Chloride, TEA-Dodecylbenzenesulfonate, PEG-150 Distearate, Tocopheryl Acetate, Prunus Amygdalus Dulcis (Sweet Almond) Oil, Panthenol, Lysine HCl, Hydrogenated Coconut Oil, Helianthus Annuus (Sunflower) Seed Oil, Glycine Soja (Soybean) Oil, Glycerin, Methylisothiazolinone, Niacinamide, Aloe Barbadensis Leaf Extract, Ascorbic Acid, Methylchloroisothiazolinone, Red 33 (CI 17200)
The other brand I tested out is
MATRIX Biolage ExquisiteOil
.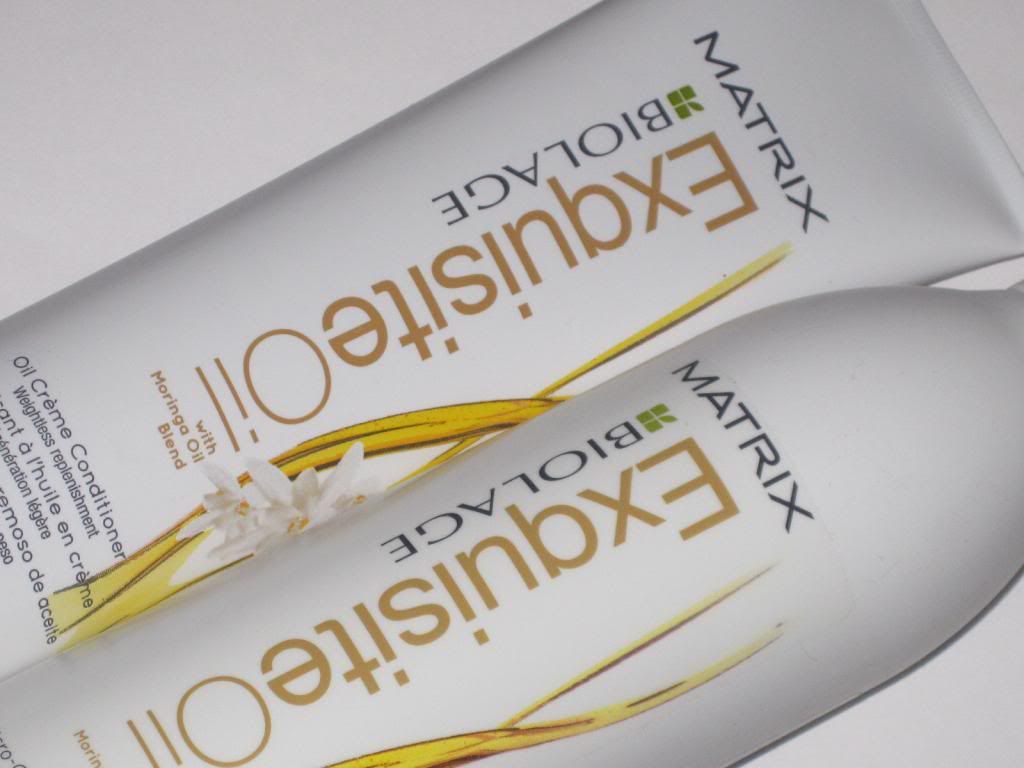 Some info from their fact sheet:
Biolage's New ExquisiteOil Collection featuring Moringa Oil in its purest and most refined state, penetrates deeply to replenish hair and protect it from dulling impurities. Now, leave nothing behind but pure, clean shine. The Moringa Oil Blend enhances all hair types by promoting long-lasting radiance and protection against environmental aggressors, while deeply replenishing hair without the build-up.
What is Moringa Oil?
Moringa Oil is obtained by cold pressing the seeds of the Moringa Oilefera Tree, also known as the "Tree that never dies." Native to the foothills of the Himalayas in northwestern India, Moringa Oil is the most pure, stable oil available in nature with abundant antioxidant properties.

What is in the Moringa Oil Blend?
Moringa Oil blend is an exclusive blend of natural micro-oils that penetrate directly into the hair cuticle without weighing hair down. Dull, lackluster hair is replenished and brought back to life with multi-dimensional shine. The potent antioxidants in this blend protect hair from environmental aggressors and free radicals to maintain the integrity of the hair.
As you know, anything with "oil" gets me rather excited. I had high hopes for this set!
My experience with MATRIX Biolage ExquisiteOil Micro-Oil Shampoo and Oil Crème Conditioner:
The first thing I noticed and was impressed with is the scent. It's a sophisticated floral that I don't often experience with hair products. Think of a more flowery and less tropical MoroccanOil. The second thing I noticed was the silky glide of the shampoo against the hair as I lathered. Both the shampoo and conditioner are incredibly smooth to the touch and against the hair, during and after the shower. While both products rinse out well, they leave behind a glide in the hair that I haven't experienced in a long time. It aids in the sense that the hair is being nourished and hydrated. I recommend this for anyone with unruly textured hair or those who rely on frequent heat-styling. My hair was calmer and better-behaved after blowdrying. However, the nourishing feeling did not extend to the scalp as visible flakes emerged again.
Unfortunately I couldn't find the ingredient list for these products, but it is important to note that both the shampoo and conditioner are paraben-free according to the
MATRIX website
. At CAD$16.95-$18.95 for 500mL shampoo and 300mL conditioner, the price is more than what I'm used to paying. But for the scent and feel of the hair alone, I would gladly indulge in the MATRIX Biolage ExquisiteOil set in the summer when my finicky dry scalp is no longer an issue.
CLEAR products can be found in drugstores in Canada and MATRIX Biolage products are carried exclusively at MATRIX salons. Both products were sent free of charge for review purposes only.