There was a time when these sort of shades were all I'd wear. In fact, my first MAC blush is
Blushbaby
which forms a part of the ensemble below. Prior to
Blushbaby
, I only had one or two other blush from the drugstore which I picked with untrained eyes, randomly betting that they wouldn't clash with my skin tone or look overly garish. At MAC when I first asked for a blush recommendation, I remember the saleswoman sweeping a quick look at me and declaring, "Blushbaby, definitely." And that was the beginning of my blush whore ways. Because after the neutral, you want a pink or a plum or a red... and the list goes on and on, to our great collective joy!
"Neutral" blush is basically used to describe the natural tan or browned rose shade which ideally suits every skin tone and is considered a fuss-free makeup look. The result is supposed to add a hint of colour to the face without drawing attention to the cheeks, adding dimension and contour and flush in one fell swoop. Over the years, I relied mostly on
MAC Blushbaby
and
Benefit Dallas
. (Can you see how both show signs of being well-loved and how
Blushbaby
even has a slight dip in the pan?)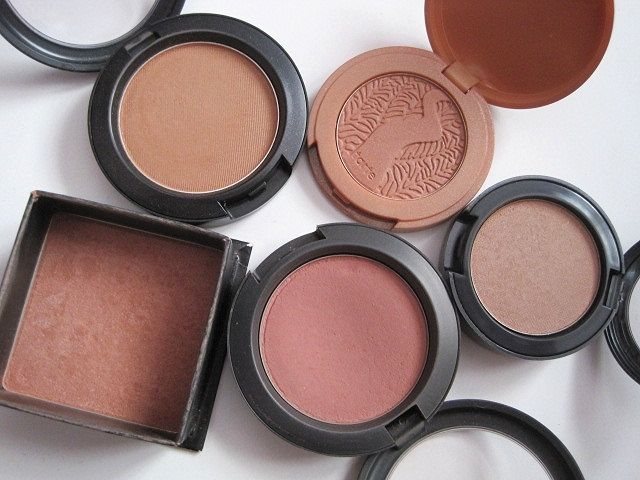 Top Left: MAC Equilibrium / Top Centre: Tarte Stellar / Far Right: Annabelle Pronto
Bottom Left: Benefit Dallas / Bottom Centre: MAC Blushbaby
MAC Equilibrium
(Limited Edition from Fall 2011 MAC Me Over Collection) - It's the most brown of the bunch and I use it sometimes to contour.
Tarte Stellar
(Limited Edition from Holiday 2012 Blush Set) - It looks quite brown in the pan but has just enough rosiness and shimmer to make it a really good neutral blush.
Annabelle Pronto (#32)
- Definitely more brown than rose but much lighter than MAC
Equilibrium
. I add it on those rare days when I don't want to look flushed but don't want to look completely bare.
MAC Blushbaby
- It looks so pink compared to all the others!
Benefit Dallas
- It's marketed as both a bronzer and a blush, but I think that really depends on the individual and their skin tone. I like it as blush.
And now the swatches under a variety of lighting:
Left to Right: Benefit
Dallas
, MAC
Blushbaby
, Annabelle
Pronto
, Tarte
Stellar
, MAC
Equilibrium
As you can see, there are similarities but no sure dupes within the bunch. I won't be getting rid of any at this point, but I definitely won't be adding to the collection either. Swatching these and taking stock killed my desire for Tarte
Exposed
and NARS
Douceur
which everyone touts as the universally flattering neutrals. I think that I can manage with what I have.
Swatching these have also rekindled my love of classy neutrals. When I took these photos a week ago, I fell back in love with
Blushbaby
and used it non-stop until Friday. But I'm such a fickle beast. As of today, it's all about peaches and apricots. After that will be corals. Then maybe purples! I can barely contain myself right now. Blush is the best.
#blushfiend