Hey, remember this from the last post? Think I have anything in the stash to rival its overwhelming orange-ness?
Heh. Not even close.
I'm talking
orange
. Not peach, not coral, not apricot. The shade is
Make Up For Ever Tangerine #18
(described as a "vibrant matte orange").
It completes the vibrant cheek palette I personally customized.
This
will be the standard upon which I will judge all red, pink and orange tone blushes.
Although I know I don't have anything like it in my stash, I still had to look.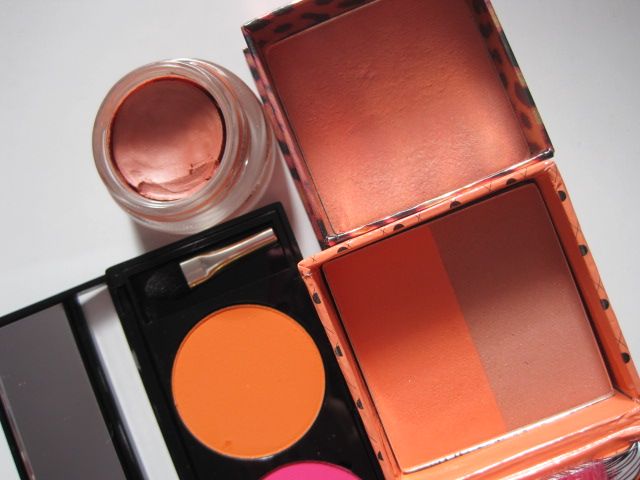 Top Left: MAC Coral Crepe / Top Right: Benefit Coralista
Bottom Left: MUFE #18 / Bottom Right: Hard Candy Fox in a Box
The corals definitely aren't a match, so out they go. It leaves
#18
against
Fox in a Box
.
They
almost kind of
look similar in the pan... But nope.
Fox in a Box
appears peach/coral on the flesh while
#18
maintains its vivid orange tone.
Then I remembered that I had an orange cream blush. It's
GOSH 001 Tropical Breeze
.
Tropical Breeze
is more vibrant and lighter in tone than it appears below.
Well, it is orange, I'd say. Lighter and shimmery and creamy, but still orange.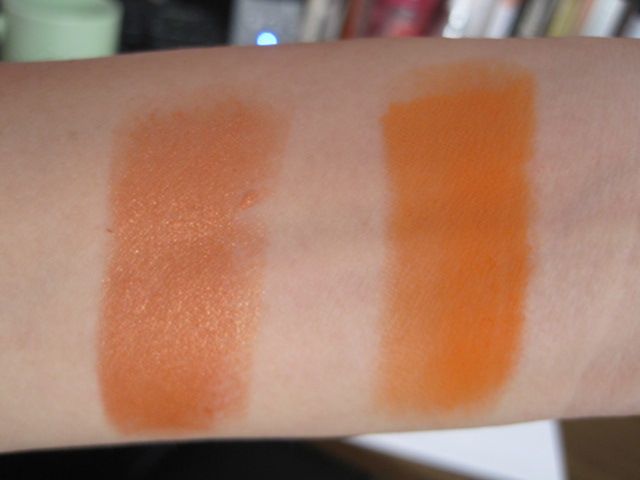 Left: Tropical Breeze / Right: #18
But again, they're different enough that they can't possibly be considered to reside in the realm of dupishness. This exercise reminded me of how much I loved Tropical Breeze when I first picked it up, and I enjoy using it best during summer when my face is more tanned. I think that's where this orange/COLOURS lemming came from: the desire for summer. Two months more of this wintery wretchedness and we'll be complaining about the insects and heat. I can't wait.
Ingredients for MUFE #18
: Talc, Kaolin, Nylon-6, Octyldodecyl Stearoyl Stearate, Polyglyceryl-3 Diisostearate, Isostearyl Neopentanoate-Polybutene, Butyl Stearate, Phenoxyethanol, Methylparaben, Ethylparaben, Propylparaben, Butylparaben
Made in France.