Seems like a silly title, doesn't it, because who doesn't like books? Yet many people I know don't. It's not that they actively dislike books, but there are those who don't enjoy reading for whatever reason or those don't understand the value of literature. A lawyer once asked me what the point of studying English literature was and I nearly fell over in shock. She said she was entertained by movies but that books bored her, and that reading fake stories about fake people failed to inspire anything in her. Back then, I wanted respond that "real" people bore me 90% of the time and that without the "fake" things to aspire to, life would be incredibly dull and unsatisfying. I think that I tried to explain it more politely but the discussion didn't go anywhere. She remained unconvinced that literature was necessary. And it's not, to the degree that you need water, food and shelter. But as beings with thoughts and ideas and feelings over merely existing, it would be odd to not be able to express those things with the one vehicle we created for that express purpose: language.
Literature was my first love. After many years away from it, I came back to studying it with the firm belief that doing what I feel passionate about will lead me to a better place eventually. I also longed to be among my own kind, with fellow bookworms who feel similarly passionate about our subject matter and know the source material behind so many of the movies being produced these days. Maybe that's why I feel at home in the blogosphere in a way I don't in offline life, because expressing the self with text isn't something I share with a lot of people on a regular basis. Daily emails and text messages are businesslike, brief and to the point. But on blogs, people come alive with words to describe everything from the texture of a lipstick to the feelings stirred by a song. I discovered that many bloggers are avid readers, and our shared love of language, words and imagination forge many memorable moments that grow into solid friendships. Books are seeds planted for the future, gateway into other worlds and perspectives we would otherwise never know. The words within the pages give form to shapeless thoughts and feelings floating in our minds on a regular basis and tether them as something concrete and tangible. We write to express, and we read to learn to express and to understand.
So, I have a lot of books. I tried to count them several times, but it's way worse than trying to count how many blushers I have. It's not really about the numbers for me, however, so I don't really care how many there are.
I prefer to buy small paperbacks to fit as many possible on a shelf. For this particular shelf, I ended up double-shelfing the books per row to maximize space. For me, the value of a book is in its content for the most part, which is why I don't spend a lot of money on first release hard covers or fancy editions. I began collecting as a child, buying cheap discards from the library for $0.25. Eventually I was forced to buy certain editions for university classes, and I try not to keep duplicates unless there's a drastic difference between two editions with just as much value in both. (For example, Henry James was notorious for revisiting his earlier books and rewriting them -- badly, too, according to many critics. You need to take a look at what year that particular copy of the book was originally published to see what era of his writing you're looking at.)
I'd like to say that I'm a sort of an aspiring librarian with neatly catalogued books, but sadly, no. After moving from room to room in this house as different siblings moved in and out, I was happy to simply be able to fit all the books on some sort of shelf space, order be damned. The catalogue is in my head and I know exactly which book I have, if not its exact location on a shelf.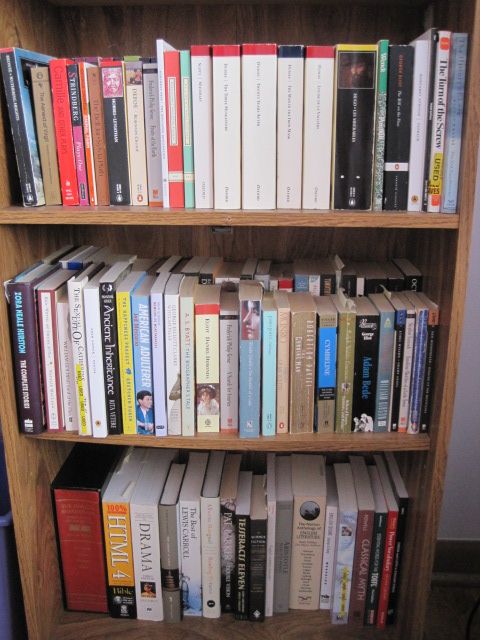 Paperbacks on top, oversized books and heavy anthologies on bottom.
Below are the other two bookshelves, also littered with all sorts of trinkets and things.
And this little unit is a small shelf I made in Grade 6 shop class. (This was back in the day when they taught home economics, visual arts and shop as mandatory requirements in middle school. I was horrible in home ec, fantastic in art and shop.) I remember sawing the pieces, sanding and varnishing with a lot of love and care. It's remarkably sturdy even after all these years. I'm going to keep it until one of us perishes.
As a result of my disorganization, the genres are all mixed up. But I kind of like the austere Northrop Frye rubbing elbows with sharp-witted Sarah Vowell and mellow Jane Urquhart. Classifications and taxonomies are not the end all or be all. Often they are as limiting as they are helpful. We can create subcategory after subcategory to no avail. Not all books fit in a box nice and neatly. (And perhaps those are the best kind of books.)
Mandatory Tolkien shot for my personal Counsel of Elrond. ;-)
When I had more time for leisure reading (for the last handful of years, it's been all course-related requirements), I'd pick a book or an author on a whim and pursue the series or the author or both until there was nothing more to pursue. It happened with
The Three Muskateers
by Alexandre Dumas. When I first picked it up, I had no idea that it was an entire series ending with
The Man in the Iron Mask
. But I fell in love with the characters and chased them all the way through the less exciting
Twenty Years After
and
Louise de la Valliere
. And obviously after that, I had to read
The Count of Monte Cristo
. Dumas could ramble on, but he wrote with a lot of relish, unlike Hugo who was denser and more philosophical. Good times were had.
As years went on, I pursued mostly classical literature. I delved into romance, sci-fi, fantasy, mystery, crime and even erotica, but few engaged me for long in those arenas. Then later, I developed a strange personal quirk: I liked reading about reading, reading about writing, and reading about books. I discovered those sort of books under the umbrella of literary criticism where traffic tended to be light, which was exactly to my liking. Similar to the theme of this blog, it appears that I like to examine why we love what we love. Why is it that we do any of this mad cap scribbling and photo-taking -- to the point that we have to share with the world (wide web) -- why we do what we do?
Touching back down to what I like: I love
The Awakening
by Kate Chopin.
The genius duo of Henry James and Edith Wharton keep me delighted year after year. I had a plan to read all of both of their books as well, but the plan was derailed by repetitive courses that had me re-read
Daisy Miller
,
Portrait of a Lady
,
Ethan Frome
and
The House of Mirth
multiple times. I dream of the day I can sit down for a week and wrestle with
The Golden Bowl
. Then I will read their biographies.
And if anyone asks me what my favourite book is, I answer with
Fifth Business
by Robertson Davies. In fact, I say the entire
Depford Trilogy
. I'm convinced that Robertson Davies died with the secret of life in his Santa Claus-esque beard. Born in small town Ontario and destined for greatness, Davies longed for intellectual stimulation beyond the restrictive life of 9-5 jobs and quiet Canadian living. Eventually he became one of the founding members of
Massey College
at the University of Toronto, where the main library is named after him. The quality of his writing is visibly progressive, but his biggest triumph is this trilogy, written during the middle years, filled with amazing dialogues and insights that he probably would have loved to have shared with fellow nerds. Lucky for us, he wrote them down.
Then a handful of years ago, I got into collecting signed books and attending author readings. Book lovers in Toronto need to check out
Authors at Harbourfront Centre
and free events hosted by the
Toronto Public Library
and
Indigo
. Great resources and opportunities are to be had all the time, and my only problem is that full-time work and part-time studies don't give me enough time to attend everything that I want. I sit in enough lectures as it is for time being. Anyway, below is Yann Martel's signature. I went to a reading and took a few books to be signed by him. When my turn came, the books slipped out of my grasp last second and landed with a thump on the desk, as if I had rudely slammed them down for him to sign. Yann looked at up me with a certain look on his face ('
excuse you
') and unenthusiastically asked what my name was. I should have explained, but it all happened in a split second. By the time I found the words to explain, it was too late. Does it look to anybody else as if he signed his name as "Sam"???
And below are the books that you sometimes see as backdrop to some of my makeup pics. (Usually I drop a piece of blank white sheet on the desk and take pictures there.) When I ran out of shelf space, I acquired this industrial-size desk with a large hutch and stored the extra books along the desk from end to end.
Now, have I read all the books that I own? Nope. I could probably fill one shelf with books I haven't read. Many were picked up at university library sales where I carted them away by boxes. I've stopped purchasing books for time being, in anticipation of reading all the unread books and eventually switching over to e-books. It doesn't mean that I'll give up my physical library, because I'll always have a fond attachment to these old friends who kept me company for many years. There's something satisfying about turning the paper page, listening to the sound of the flip and being able to take up a pen to highlight a particular word or phrase. But I foresee a time when space may be limited, and I am thankful for the availability of e-readers that make it possible for me to continue this love affair with writers and books across all ages and genres.
Given that I'm writing about a rather large book collection on a blog devoted to reducing beauty products, it begs to be asked: why don't I feel the same guilt about hoarding books as I obviously felt (and sometimes still do) about hoarding beauty products? No one will look at my book collection and ask in shock and distaste, "
Why
do you have so many books?" (Although, when I was working at the bookstore, a customer came in and used the term "crap" to indicate physical books.) But many people have looked at my train case and reeled back in horror at the makeup stash, asking, "Why?"
Because it's fun.
Because it transforms me into a better (or more functional) me.
Because it adds colour and beauty to an otherwise sometimes very dreary world.
And yet. Guilt sets in if I spend $100 for a Chanel highlighter. Would I feel the same guilt if I purchased a $100 antique book? I don't know, because I've never done it. I've been frugal with books for the most part, though a part of me fiercely desires to acquire vintage leather bounds or artistic hard copies of classics. Somehow I've managed to separate aesthetics, form and function with books. But while working at the bookstore, I realized once more that they all come together in various ways. Sometimes I wasn't able to locate certain books on the main shelves because they were being used as prop instead on a display. I had mixed feelings about that. Was it about show or content? Or both?
I think the answer is unique and individual to us all. For me, books were mostly about what was between the pages and the quality of writing within, their ability to make me think deeper or to entertain greatly. With beauty products, it's mostly about the way they make me feel on a daily basis as a part of morning and night rituals. It might call for a $100 Chanel highlighter from time to time, to feel pampered in a way that Edith Wharton heroines might like to feel. It took me a long time to reach this point, but I don't see why both can't co-exist harmoniously. They add joy and value to my life, internally and externally. They make me feel human.
May I never stop exploring new books nor stop exploring new lipsticks. I don't have to always buy them, but I will never stop looking. :-)